About me
Some juicy information about me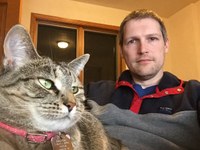 When someone asks for a bio the first thing I think is "why?". Theres nothing all that special about me and my life is relatively free of drama and madness. I've never been a drug addict, Ive never been arrested for crazy behavior (Thou I do imagine myself as a wild man, risk taker/ninja, taking life by the horns and riding my motorcycle off into the sunset ) its really a lie, I dont own a motorcycle :). I think of my life to date as a set of bullet points.
Family got involved in a carnival when I was young (ask me when you have a few hours)
Traveled the country in various type of vehicles
Cared for exotic cats (lions tigers etc...)
Made many friends from accross the spectrum of humanity and economic conditions
Ran away from the circus to attend the University (their very similar just different dental plans)
Through no fault of my own I accediently attended one of the best art programs I have ever seen at The University of Toledo.
Met an incrediable mentor/friend Thomas Lingeman
Grad school at "The University of Idaho"
Met another great mentor/friend Richard Higgs"
Became a raging liberal (well thats how I imgine myself anyway :) )
Got a job supporting faculty at the University of Wisconsin Oshkosh
So so far I think im doign pretty good. Little bit of this and that. Im curious about darn near everything and I think Im pretty good with that. My most recient favorite quote is from a book "Tricked", by Kevin Hearne " Dont go silently, go out raging at full volume". Its not quite exactly right but I'll look up the exact phrasing later :).
And!! I have cats! Their Awesome!