Totally Unprofessionals Guide to Video Creation
This is a short 1 hour presentation highlighting the video resources available to UW Oshkosh faculty. There was a one hour open lab after the workshop which was more freeform work on your video or ask questions about how to make a video session.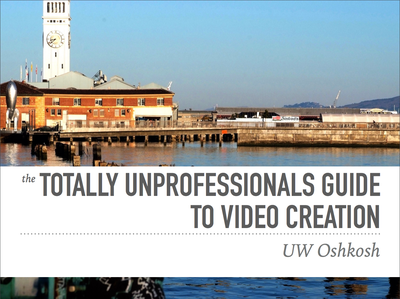 Class Description
Whether you're running for office, teaching your students, or issuing a public apology, you may need to create a video. You may say, "Video requires too much technology!" Or, "This is too hard for someone like me." To that we say NAY! Come to this workshop. We will introduce you to the technology (most of which you probably already own). We will coach you through the variety of options from simple do it yourself to complex (involving scripts and hair gel). The official session will last for an hour, and you will walk away with your own "Hello, world, it's me" video. The after - session party will extend for a couple of hours and you'll have time to work on your video with professionals.
Video
My friend Rick Landvatter who works with me shot and editied this session. Your missing the studio tours which are informative and fun, but hey... you should have been there :).